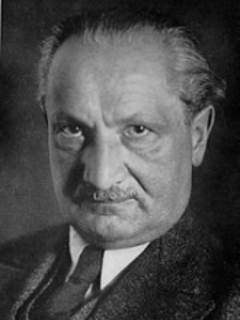 Martin Heidegger
German philosopher widely acknowledged to be one of the most original thinkers of the 20th century, he was also one of the most important representatives of the phenomenological movement. His best known book is Being and Time (Sein und Zeit), published in 1927. Heidegger succeeded Husserl as professor for philosophy at the University of Freiburg, where he was later also elected rector. He joined the National Socialist German Workers' (Nazi) Party in 1933.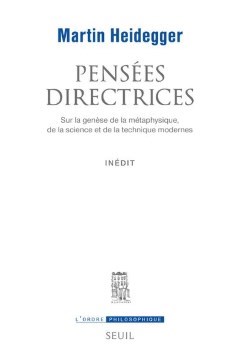 Pensées directrices
Seuil - Paris
2019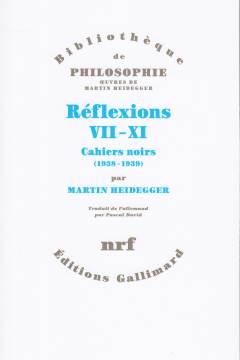 Réflexions VII-XI
Gallimard - Paris
2018
Les Cahiers repris dans ce volume, rédigés en 1938-1939, tournent principalement autour du thème de «l'autre commencement » que, selon Heidegger, la philosophie a pour tâche de préparer, à l'heure de «l'achèvement des Temps nouveaux», où le règne de la métaphysique de la subjectivité porte le «premier commencement», le commencement grec, à sa complète expression. Cela se manifeste en particulier dans «la réduction de l'homme à lui-même», à son animalité et à sa rationalité qui non seulement se conjuguent, mais se renforcent l'une l'autre.
Réflexions II-VI
Gallimard - Paris
2018
Ce volume comprend les cinq premiers des trente-quatre Cahiers rédigés par Heidegger depuis le début des années 1930 jusqu'à la fin de sa vie (la série commence en fait au deuxième de ces Cahiers, le premier ayant été perdu). Les «Cahiers noirs» ou «Cahiers de travail» (ainsi Heidegger les dénommait-il lui-même d'après leur fonction ou la couleur de leur reliure) occupent une place singulière dans l'ensemble de ce qu'a écrit l'auteur. Hölderlin's hymn "Remembrance"
Indiana University Press - Bloomington, In
2018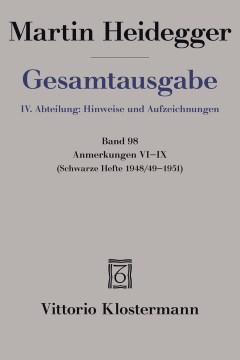 Anmerkungen VI–IX
Klostermann - Frankfurt am Main
2018
Mit den »Anmerkungen VI–IX« wird die Veröffentlichung von Heideggers Schwarzen Heften fortgesetzt. Die zwischen 1948/49 und 1951 entstandenen Aufzeichnungen kommentieren noch zuweilen politische und gesellschaftliche Erscheinungen der deutschen Nachkriegszeit, beziehen sich aber immer mehr auf ein »Denken des Seyns kd« (kd = kreuzweise durchgestrichen), das Heidegger jenseits der Philosophie entwickeln möchte.